Camp Philosophy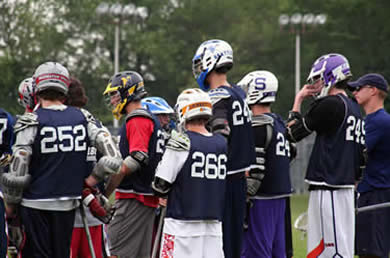 The Elite 180 recruiting camp was created four years ago to meet the needs of a very distinct subset of college coaches and student/ athletes. As the Head Coach of the Amherst College Lacrosse team I found it to be ineffective to travel to each and every recruiting venue looking for that small faction of student/athlete who could meet the academic and athletic demands of the Northeast's most prestigious colleges. In turn, Elite 180 now seeks to bring together the nation's best student/athletes with the some of the nation's best colleges.
Over the years Coach Theriault and I have met with many players, parents and coaches to discuss what has and has not worked in the college recruiting game. Inevitably, the answers revolve around the shear size of the venue and the player's true exposure to coaches that they intended to perform in front of when they signed up for the camp.
At Elite 180 each of the teams are coached for the entire camp by a NESCAC or Ivy League coach. The camp enrollment is limited in order to keep player to coach ratio at a level that allows the coaches to get multiple exposures to each of the players. We have also taken into consideration the physical setting of the playing fields and created a space that centralizes all of the games in to four adjacent fields, allowing coaches the best opportunity to watch all of the action.
Lastly, what further separates the recruiting experience at Elite 180 from the many others out there is the attention that we pay to giving student/athletes the complete recruiting picture. Each evening at the camp there is a different event that is designed to better educate rising juniors and seniors about the realities of the recruiting process; Recruiting 101- an overview, a how to, and a when to that accompanies the recruiting packet that each camper receive upon registration. A coaches forum that answers a wide rage of recruiting questions and provides some common sense advice. We follow up these events on the last night with and admissions person from a NESCAC school who provides important nuts and bolts information about college applications, Early Decision vs Regular, and answers so many other common questions that future college applicants may have.
We are excited to be in our fourth year and look forward to providing a wonderful and sincere recruiting opportunity for each player that attends the camp.