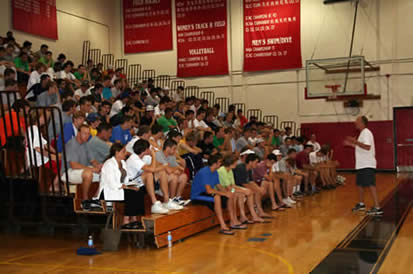 Elite 180 Lacrosse offers another unique aspect which goes beyond the playing fields and sets us apart from other recruiting camps.  Each evening we provide educational speakers to the camp detailing the many aspects of the recruiting/college process.
Examples of Evening Discussions:
+ College Admissions staff discussed the admissions process, myths and all facets of admissions and other NESCAC schools.
* Appearances from:  Amherst College, Williams College, Middlebury College & Conn. College.
+ College forum with Ivy and NESCAC coaches discussing all aspects of the recruiting process:
* The differences between DI, II & III
* What college coaches are looking for when recruitng a player
* Interview
* Resume
* Highlight and game film
* Open Discussion
+ Current College Player Q & A
+ Optional discussion about prep school and the post graduate year
* Northfield Mt. Hermon School    * Philips Andover    * Pomfret School